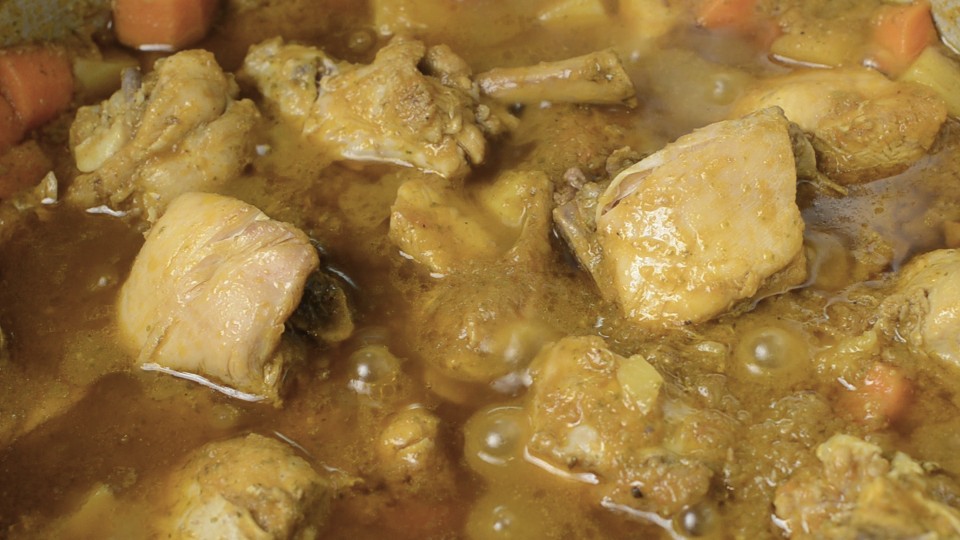 This is a simple chicken stew that goes well with the Somali Chapati (Sabaayad), the Potato & Cumin Rice (Pilau), or Maanda (Muufo). It's a typical Somali stew flavoured with Xawaash (Somali spice mix).
Growing up in Somalia, the chicken we had there were all free range. The meat was tougher and required a much longer time to cook, but it was a lot more flavourful. In Somalia, chicken meat was considered a delicacy. It was not readily available and it was also not affordable to many.
We remember watching a TV program about a group of young men who wanted to cross the Mediterranean Sea from Africa to Europe. The reporter asked one of them what his motivation was in making that risky journey. The young man replied that he wanted to eat a chicken. Of course we understood that he meant that he was seeking a better life, but at that moment, a chicken symbolized prosperity for him.
Today, poultry farming has changed that. In the diaspora, most Somalis would not cook a chicken dish for an honoured guest. This is probably due to the fact that chicken is abundant and cheap.
Ce poulet mijoté tout simple s'accompagne de Chapati Somali (Sabaayad), de Pommes de Terre et Riz au Cumin, ou de Maanda (Muufo). C'est un ragoût Somali typique parfumé au Xawaash (mélange d'épices Somali).
Pendant notre enfance en Somalie, les poulets étaient tous élevés en plein air. Leur chair était plus coriace et devait être cuite plus longtemps, mais elle avait aussi beaucoup plus de goût. En Somalie, la viande de poulet était considérée comme un mets raffiné. Elle n'était pas facile à trouver et peu de gens pouvaient s'en acheter.
Nous nous rappelons avoir regardé une émission de télé sur un groupe de jeunes hommes qui voulaient traverser la Mer Méditerranée de l'Afrique vers l'Europe. Le journaliste demandait à l'un d'eux quelle était sa motivation pour entreprendre ce voyage dangereux. Le jeune homme répondit qu'il voulait manger du poulet. Bien sûr, nous avons compris qu'il voulait dire qu'il cherchait une vie meilleure, mais à ce moment là, un poulet symbolisait la prospérité pour lui.
Aujourd'hui l'élevage intensif de volaille a changé tout ça. Dans la diaspora, la plupart des Somalis ne cuisineraient pas un poulet s'ils avaient un invité important. C'est probablement dû au fait que le poulet est abondant et bon marché.
Ingredients: 
Serves 6
1 – 4.5lb (2 kg)           Chicken (skinned & cut into small pieces)
3                              Tomatoes
½                             Onion
½                             Green pepper
1                              Jalapeno (seeded)
4                              Garlic cloves
1                              Potato
1                              Carrot                   
3 Tbsp                       Vegetable or canola oil
1 Tbsp                       Xawaash
2 tsp                         Tomato paste
1 cup                         Fresh cilantro
1 Tbsp                       Vegetable seasoning
1 cup                         Water
2 Tbsp                       Ghee (optional)
Waxa loo baahanyahay:   
(Q.W. waa qaaddo weyn – midda cunnada lagu cuno) (q.y. waa qaaddo yar)
1 – 4.5 lb (2 kg)         Digaag (maqaarka laga saaray oo yaryar loo jarjaray)
3                             Yaanyo
½                            Basal
½                            Barbarooni
1                             Basbaas (oo miraha laga bixiyey)
4                             Tuun (toon)
1                             Bataato (baradho)
1                             Karooto
3 Q.W.                     Saliid cad
1 Q.W.                     Xawaash
2 q.y.                      Yaanyo shiishiid
1 koob                     Kabsaro caleen (la-jarjaray)
1 Q.W.                     Maraq dajaaj
1 koob                     Biyo
2 Q.W.                    Subag (waa ka-dhaafi kartaa)
Ku-filan 6 qofood
Sida loo kariyay waxaa ka-fiirsataa 'video'ga.
Ingrédients:
Pour 6 personnes
1 – 4.5 livres (2 kg) de Poulet (sans la peau & et coupé en petits morceaux)
3 Tomates
½ Oignon
½ Poivron Vert
1 Piment (épépiné)
4 Gousses d'Ail
1 Pomme de Terre
1 Carotte
3 cs d'Huile Végétale ou d'Huile de Colza
1 cs de Xawaash
2 cs de Concentré de Tomate
1 mesure de Coriandre Frais
1 cs d'assaisonnement pour légumes (ex: bouillon cube)
1 mesure d'Eau
2 cs de ghee (beurre clarifié) (optionnel)
Directions:
Roughly chop the tomatoes, cilantro, green pepper, and onion, then blend.
Dice the potato and carrot.
Add the oil to a pot set on medium heat and add the xawaash. Immediately after, add the chicken pieces. You don't want the spices to burn. Brown the chicken for about 2 minutes then add the vegetable seasoning.
Add the diced potatoes and carrots to the pot, then add the blended veggies. Add the tomatoes and the water, then cover and cook for 30 minutes.
Add 2 tablespoons of ghee or clarified butter (optional).
Instructions:
Découper grossièrement les tomates, le coriandre, le poivron vert, et l'oignon, puis mixer.
Couper la pomme de terre et la carotte en dés.
Verser l'huile dans un faitout chauffé à feu moyen et ajouter le Xawaash. Immédiatement après, ajouter les morceaux de poulet. Faites attention à ne pas laisser brûler les épices. Faire colorer le poulet pendant 2 minutes puis ajouter l'assaisonnement pour légumes.
Ajouter les dés de pommes de terre et de carotte dans le faitout, puis ajouter les légumes mixés. Ajouter le concentré de tomate et l'eau, puis couvrir et cuire pendant 30 minutes.
Ajouter 2 cuillères à soupe de ghee ou beurre clarifié (optionnel).
1. Ajouter le xawaash à l'huile sans le laisser brûler
2. Ajouter le poulet et le faire colorer
3. Ajouter l'assaisonnement à légumes
4. Ajouter la pomme de terre et la carotte
5. Ajouter les légumes en purée
6. Ajouter le concentré de tomates
7. Ajouter l'eau chaude
8. Couvrir et cuire à feu moyen pendant 30 minutes
Related posts: