Tender meat cooked to perfection and served with Somali rice.  You can cook this dish either with lamb shanks or goat shanks.  Goat meat has a milder taste than lamb.
We used a pressure cooker to cook the meat quickly, but you can cook it slowly in a slow cooker or in a regular pot until the meat becomes fork tender and starts to fall off the bones.  The resulting sauce is incredibly flavourful.  
We didn't add any other vegetables because the Somali rice is usually served with a topping of vegetables.  
This is a fancy and delicious dish yet simple at the same time.
Cette viande est tendre quand elle est cuite à la perfection, et se sert avec du riz Somali. Vous pouvez réaliser ce plat avec soit du jarret d'agneau soit du jarret de chevreau. La viande de chevreau a un goût moins prononcé que l'agneau.
Nous avons utilisé un autocuiseur pour cuire la viande rapidement, mais vous pouvez la cuire lentement dans une cocotte ou dans une marmite normale jusqu'à ce que la viande soit tendre et commence à se détacher. La sauce qui en résulte est incroyablement goûteuse.
Nous n'avons pas ajouté de légumes car le riz Somali est servi avec une garniture de légumes.
C'est un plat sophistiqué et délicieux mais simple en même temps.
Ingredients:
Serves 4
4 Lamb or goat shanks
1 Large onion (diced)
8 Garlic cloves (crushed)
6 Tbsp Canola oil (or any other vegetable oil)
1 Tbsp Vegetable seasoning (we used Vegeta Seasoning Mix; you can use vegetable stock or bouillon cubes)
1 tsp Xawaash
¼ tsp Ground cinnamon
¼ cup Fresh cilantro (chopped)
2 Tbsp White vinegar
2 cups Water (5 cups if not using a pressure cooker)

Waxa loo baahan yahay:
Ku-filan 4 qofood
4 Duubi
1 Basal weyn (la-jarjay)
8 Tuun (toon) shiidan
6 QW Saliid caddeey 
1 QW Maraq qudaar (Vegeta) ama 2 mukacab Maggi ama Knorr 
1 qy Xawaash 
¼ qy Qorfe shiidan
¼ koob Kabsara caleen (jarjaran)
2 QW Qal cad
2 koob Biyo (5 koob haddaadan digsi fuufle "pressure cooker" isticmaalaynin)
Ingrédients:
Pour 4
4 Souris d'Agneau ou de Chevreau
1 Gros Oignon (coupés en dés)
8 Gousses d'Ail (écrasées)
6 cs d'Huile de Colza (ou tout autre huile végétale)
1 cs de Condiment Légumes (nous avons utilisé le mélange Vegeta; vous pouvez utiliser du bouillon de légumes ou des bouillon cubes)
1 cc de Xawaash
¼ de cc de Cannelle en Poudre
¼ de mesure de Coriandre Frais (haché)
2 cc de Vinaigre Blanc
2 Mesures d'Eau (5 mesures si vous n'utilisez pas un autocuiseur)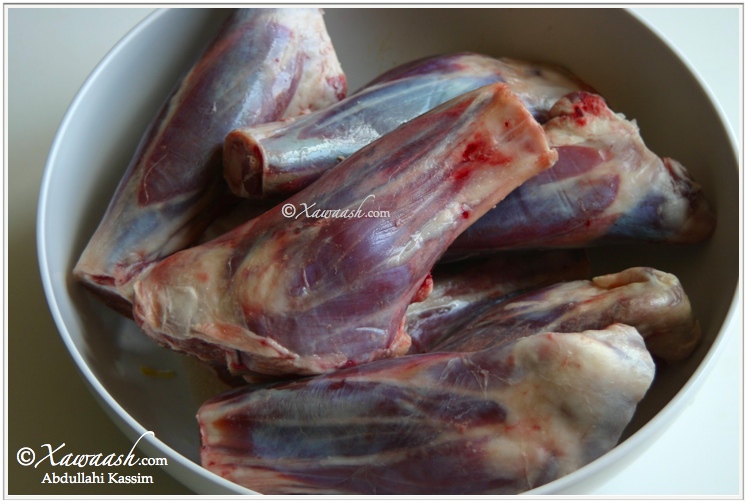 Wash the lamb shanks
Hilibka dhaq
Laver les souris d'agneau
Brown the onions, garlic, and spices with the oil. Then add the lamb shanks.
 Basasha, tuunta iyo carafta isku dalac. Hilibka ku-rid.
Faire dorer les oignons, l'ail et les épices dans l'huile. Puis ajouter les souris d'agneau.
Add the vinegar and water.
 Biyah iyo qalka ku-dar.
Ajouter le vinaigre et l'eau.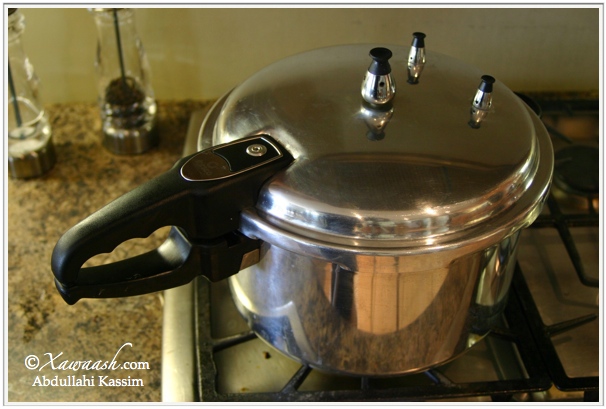 Cook on medium heat for half an hour. If not using a pressure cooker, cook for about 2 hours until fork tender. Add the cilantro before turning off the heat.
 Dab dhexdhexaad ah ku-kari muddo nus saac. Haddaadan digsi fuufle (pressure cooker) isticmaalaynin, 2 saacadood kari ilaa uu hilibka ka-jilco. Kabsaro caleenta ku-dar intaadan dabka ka-dejin.
Cuire à feu moyen pendant une demie heure.
The lamb shanks.  Fork tender and cooked to perfection.
 Hilibka oo si-fiican u-bislaaday.
Les souris d'agneau. Tendre et cuites à la perfection.
Serve with Somali rice and, most important of all, do not forget the banana!
 Bariis ku-cun, muuskana haka ilaawin.
Servir avec du riz Somali, et très important, ne pas oublier la banane!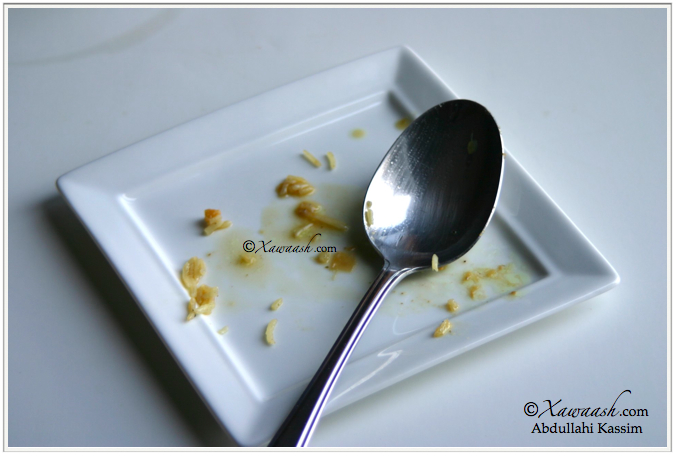 Related posts: